Did you know that bald guys have a unique advantage when we talk about personal style?
What's the first thing that people notice when they see us?
Not having hair brings our face to the forefront all the more. This is why we take good care of our heads and accessorize to define our overall look. One of the easiest ways to add to our style is to choose the right type of eyeglasses.
If you're losing hair and decided to shave like me, welcome to the club! Read along as we share this ultimate guide on how to pick the best glasses for bald men.
How to Choose a Style of Glasses for Bald Heads
Having a bald head is like having a blank canvas that you can work on to leave a lasting impression. No hair means your face becomes the highlight, which is why choosing the best glasses for bald men matters.
Just putting on any type of glasses won't look good since there are factors that can enhance your look.
There are two primary things that you need to consider when looking for the perfect choice of glasses for bald men: face shapes and frame styles.
The Best Glasses for Your Face Shape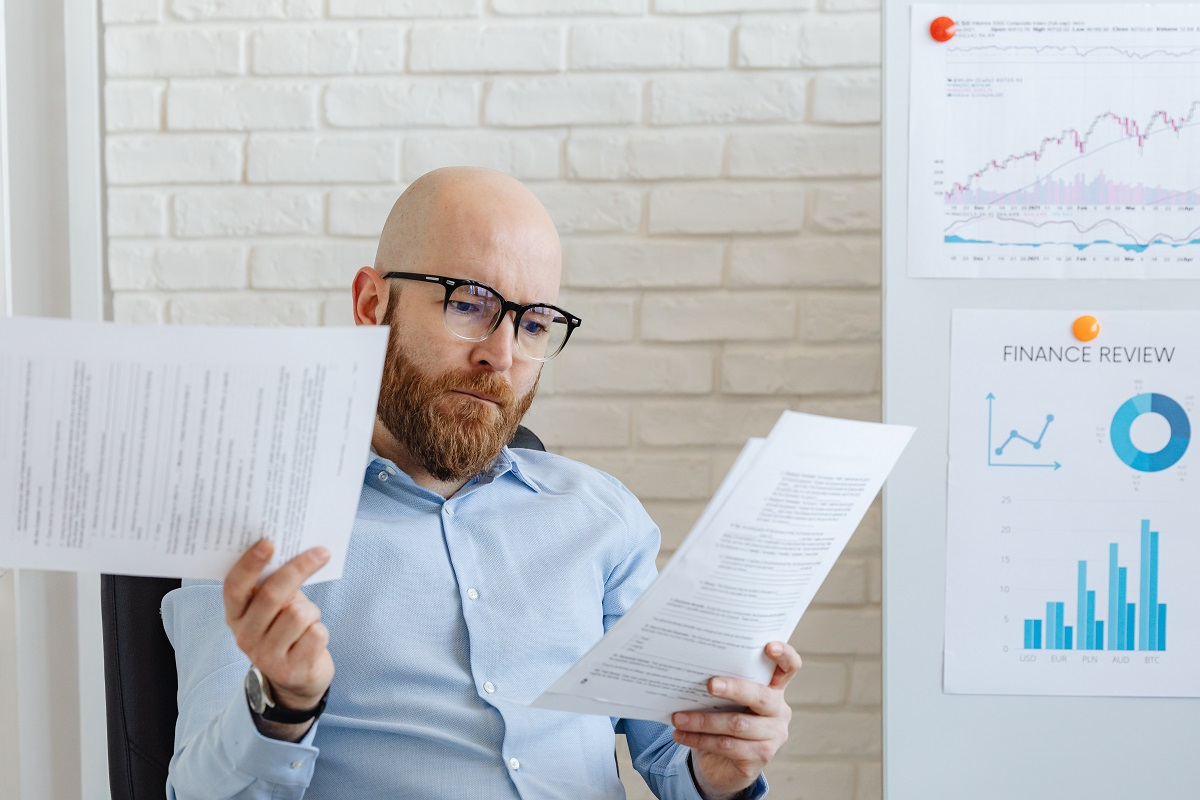 If you choose to go beardless like me, your face becomes the focal point of your look, and the wrong shape of glasses can ruin your look altogether.
Pulling off a bald head style can be challenging, especially if you have no idea which style works with your face shape. We understand that no two faces are alike, but there are certain frames that complement your face shape.
Best glasses for a square-face shape
If you have a square face, your jawline and cheekbones stand out. This makes your features appear hard and edgy. You should aim for the opposite when choosing a frame shape, which means no square frames for you. For square face shapes, the best choice is round glasses. It would be best to avoid thick frames as well since they accentuate your square face even more.
Best glasses for a round face shape
Round-faced bald heads feature prominent cheekbones and soft facial features. Again, we go for contrast, so you need to invest in square frames or rectangular frames. The worst case that can happen to your bald head style is to look too round. With a round face, your head stands out, and adding more roundness to that can be a nightmare! Stay away from round glasses and thick frames, please.
Best glasses for an oval face shape
If you have an oval face like me, it's easier to choose the right glasses that would make you look good since our face shape borders on not-so-round and not-so-square. I like the Wayfarer and Aviator styles, which are classic styles that are always in fashion. Overall, any style of glasses will work for us thanks to our oval face shape.
Best glasses for a heart face shape
If you rock a heart face shape, you have a wider forehead and narrow chin. Wayfarer glasses help accentuate your features. You can also go for glasses that feature lower rims to make your face more proportional.
Best glasses for a triangle face shape
Triangle-shaped faces feature a wide and square jawline. What differentiates you from a square face is that you have a square jawline. I like wider frames for this face shape since they make the top of your face look broader. To look good, we need to add width to your narrow forehead. Frames with colors work well for a more balanced look. A round style is also something to consider so that you can add contrast to your angular features.
Best glasses for a rectangle face shape
Rectangular faces feature high foreheads and angular edges. You know that you have a rectangular face if the width of your forehead, cheekbones, and jawline are the same. Most glasses look good if you have this face shape. Round glasses, aviators, and trapezoid glasses are good choices, but be sure to stay away from rectangular glasses and square glasses.
Best glasses for a diamond face shape
A bald head with a diamond face shape is pretty rare. You can tell if you have this face shape judging by fuller cheeks and a narrow forehead and jawline. A rimless or oval frame is the best choice for you if you have a diamond-like face shape.
The Top Styles for Your Bald Head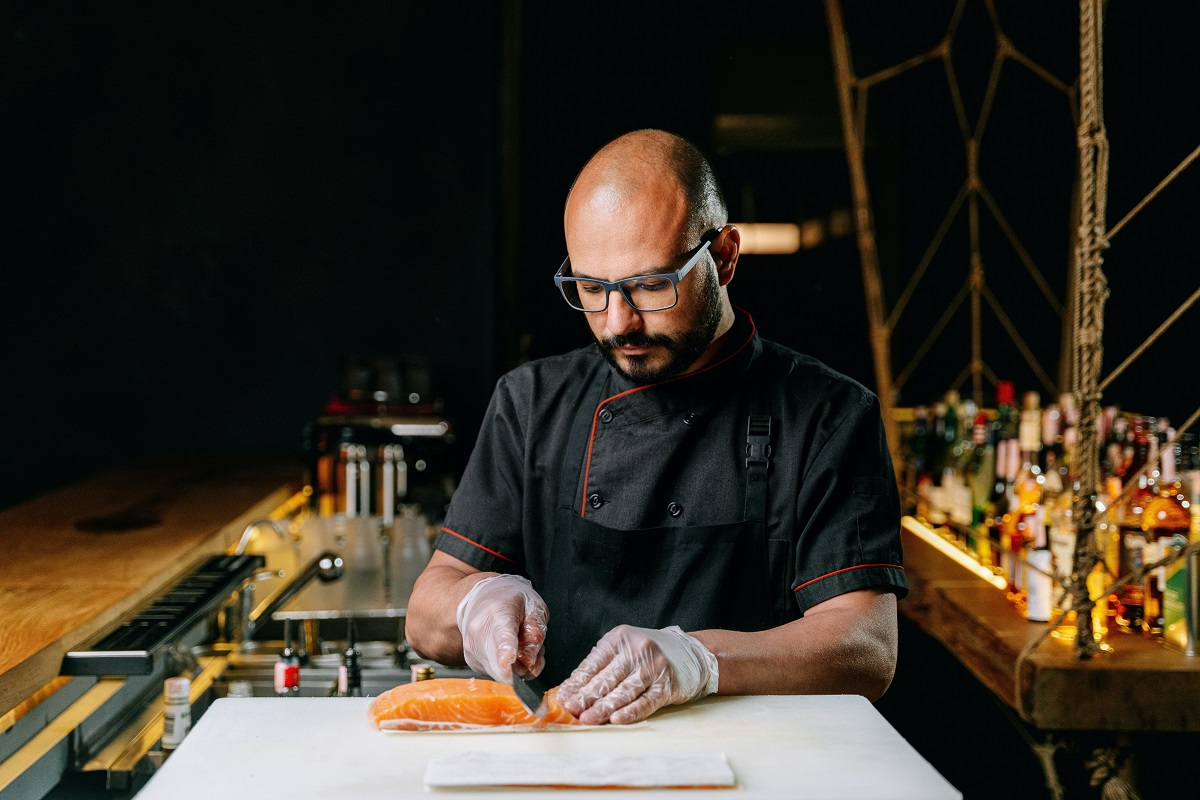 Clear, transparent glasses give you a youthful appearance. You can easily become a trendsetter wearing these types of glasses, but be sure to wear a frame that suits your face shape.
If thick-rimmed glasses cramp your style, you can go for thin-rimmed glasses, which give a more sophisticated look. These glasses are great to wear for formal occasions and business meetings.
It all started with the Blues Brothers and continued with Top Gun. These aviators never run out of style. You can wear them both for formal and casual occasions while looking stylish with your bald head.
If your bald head comes with a square face shape, you can easily add style with round glasses. These traditional frames help balance your angular features. Choose the right color to match your outfit.
Bald men with round face shapes or oval face shapes can choose these square glasses and look good, rocking the bald look. With a shaved head, square glasses give you a contrasting shape on your face that can highlight your features even more.
Other Factors to Consider
Polycarbonate: Impact-resistant lenses that have built-in UV protection. It's a good choice if you play sports and you don't want your glasses to get damaged.

Trivex: A newer plastic that's lightweight, thin, and impact-resistant.

High-index plastic: If you have a higher-grade prescription, you no longer need to settle for old super thick lenses. High-index plastic is lighter and thinner even with stronger prescription needs.

Polarized: If you are into watersports, skiing, or driving, these lenses are perfect for you. They reduce glare from water surfaces, snow, and roads. They would look good with a frame that matches your face shape.
Color tint: Going bald is a statement. Why not go a little further by adding color to your lenses? Color adds more personality and flair to your eyewear.

Gradient tint: Gradient tint lenses are perfect for the outdoors. They feature a dark tint that lightens progressively toward the bottom. If you want sun protection and a little privacy, these lenses are a good option for you.
Anti-Scratch: these coatings protect your lenses from everyday wear and tear. You won't worry if you drop your glasses accidentally.

Anti-reflective: this is a must-have, especially when you drive at night or constantly work behind a digital screen. It helps you see better by reducing glare and reflections on the back of your lenses.
The secret to choosing the best frame color is similar to picking the frame shape: Contrast.
The color of your frames should balance your skin tone, which is why black glasses are extremely popular. Here are tips for choosing the right color to match your skin.
Pale skin tones: If your skin is on the pale side, dark or earthy color frames are your best bet. Dark brown, black, amber, or burgundy colored frames would work well with your skin tone. Stay clear from light-colored frames since we are going for contrast.

Mid skin tones: An Asian complexion is easier to style as you can be more adventurous with your frame color choices. Similar to oval faces, your skin is neither pale nor deep. I have an oval face shape and mid-skin tone, which makes my glass choices easier and more fun.

Deep skin tones: For deep skin-toned baldies, shiny metal frames or pale-colored acetates would surely improve your style. Transparent or semi-transparent frames will also work well since they will provide contrast to your skin tone.
What Glasses Do Famous Bald Guys Wear?
Wearing glasses can define your look. Think about a celebrity, and you can picture a pair of iconic glasses that they wore.
Let's take a look at what glasses famous bald-headed celebrities wore that worked well with their clean-shaven look.
In the film Parker, Jason Statham plays an old vicar. He wears a classic clubman pair of glasses from the film. As Deckard Shaw in Fast and the Furious Presents Hobbs and Shaw, there's a scene in an airport where Statham wears thin-framed angular glasses.
The famous Indian activist wore a gold wire frame Windsor glasses that became a part of his style until his assassination in 1948.
Steve Jobs wore rimless glasses that went along with a simple black shirt and jeans. You can order a pair of vintage Steve Jobs glasses if this suits your style.
From round frames to a pair of clear-frame glasses, they all looked good on Samuel L Jackson.
While attending his first fashion show, Sir Patrick Stewart chose a pair of rectangular silver framed glasses. He paired the glasses with dark jeans and a brown suede blazer.
The well-known actor and filmmaker wears the VILDA eyeglasses in Tortoise. He wore this while filming his CNN series Searching for Italy.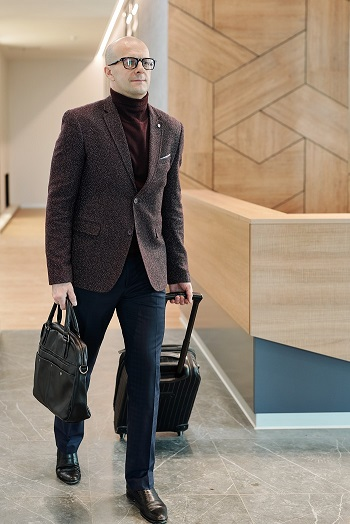 Who says that bald men can't rock their glasses with style?
By knowing your face shape and choosing the right frame and style, you can rock your glasses with confidence. Why not emulate your favorite celebrity and pick a pair of glasses that they wore? As long as you apply the guidelines we shared in this article, you can choose the perfect pair of glasses that will complement your bald head.
What's the best facial hair for bald men with glasses?
If you have a square face shape, you might want to choose a facial hair style that is short on the sides and longer on the chin. This can help add some length and soften the angles of your face.
If you have a round face shape, you might want to choose a beard style that is longer on the sides and shorter on the chin. This can help create some definition and balance out the roundness of your face.
If you have an oval face shape, you are lucky because you can pull off almost any beard style. You might want to choose a beard style that complements your glasses and your personal style.
If you have a rectangular face shape, you might want to choose a beard style that is fuller on the sides and shorter on the chin. This can help reduce the length and add some width to your face.
If you have a triangle face shape, you might want to choose a beard style that is shorter on the sides and longer on the chin. This can help draw attention away from your jaw and create some symmetry.
If you have a diamond face shape, you might want to choose a beard style that is fuller on the chin and shorter on the sides. This can help fill out your chin and soften your cheekbones.