There are two choices you can make when you go bald: Embrace it with confidence or continue hiding behind false promises hair growth products make.
I remember when I used to hide behind my baseball cap and sunglasses to cover my baldness. Male pattern baldness hit me in my 40s, and despite trying several hair growth products on the market, I couldn't fight the inevitable, so I chose to shave my head.
Today, sunglasses are a part of my style rather than a tool for privacy. If you are looking for the best sunglasses for bald men, you've come to the right place.
Join me as we go on a deep dive into how to pick the right sunglasses to accentuate our bald heads and personal style game.
How to Choose a Style of Sunglasses for Bald Men
I live in a tropical country, so having a couple of sunglasses in my closet helps me rock my bald head in style. Before you go out and buy a pair, keep in mind that not any style will do. In fact, picking the wrong frame style can totally wreck your bald look. On the other hand, choosing the right sunglasses for your face can help define and boost your style.
There are two major considerations you must learn to choose the best sunglasses out there: Face shapes and skin tones.
The Best Sunglasses for Your Face Shape
Since I chose to shave my head and go beardless, my face stands out. This makes choosing the right type of sunglasses that complements my face shape crucial if I want to look good.
There are several face shapes that we need to know and see which category we fit into. We have round, oval, square, triangle, heart, diamond, and rectangle face shapes. To determine your face shape, you can look in the mirror or ask a family member to tell you. Once you've determined your face shape, you can now learn which frame style looks good on you.
Let's take a look at what type of frames work on bald men based on your face shape.
Best Sunglasses for a Round Face Shape
The key to finding the best sunglasses for your face shape is contrast. That is the rule of thumb. So, if you are a bald guy with a round face, never pick round sunglasses with thick frames since it would accentuate your face even further. Looking too round with your bald head is a fashion nightmare!
Rectangular and angular frames are good choices since the sharp angles of these sunglasses complement round faces. You can easily rock a retro style or choose something outlandish, like cat eye sunglasses!
Best Sunglasses for an Oval Face Shape
If you have an oval face shape like me, Congratulations! It turns out that bald guys with our face shape are the easiest to style since most frame styles work well with our oval faces. I didn't have any idea about face shapes and how to choose the best sunglasses for bald men before. In fact, when I bought my sunglasses, I just picked what type I wanted and thought that it would work with my personal style.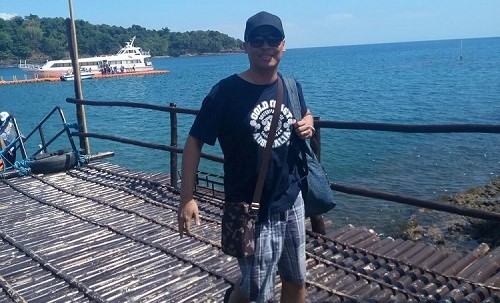 I wear my sunglasses whenever I drive or go outdoors, and it's such a relief to discover that my favorite Ray Ban Wayfarer and Aviator sunglasses work well with my face shape. I wish they had adjustable nose pads like some sunglasses. If they had them, they would be perfect!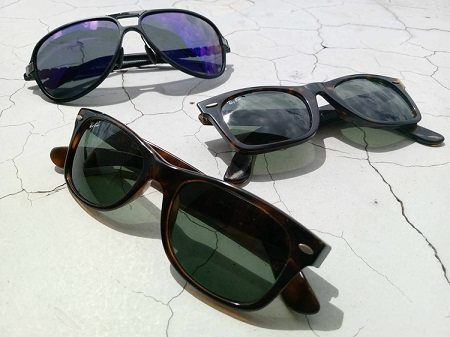 Thank God for my oval face! My face shape, being neither round nor square, gives me endless styling options. I can pick a vintage pair of round sunglasses or a pair of rectangular sunglasses, and I'll look good in either style.
Best Sunglasses for a Square Face Shape
If you're a bald man looking for the best sunglasses for square face shapes, curved frame designs that are wider will do the trick. This type of frame will help square-shaped faces by softening sharp angles and balancing your cheekbones.
Best Sunglasses for a Triangle Face Shape
Bald men with triangle-shaped faces need sunglasses that balance their wide and square jawlines. Look for frames that are wide at the top and narrow at the bottom. Sunglasses with a bolder browline will remove the attention from your jawline and make your forehead appear longer for that balanced bald look.
Best Sunglasses for a Heart Face Shape
If you have a heart-shaped face, sunglass frames that feature a deep base and subtle wingtips are a good choice. For bald guys who want to go for the Tom Cruise from Top Gun look, the classic Aviator sunglasses are perfect, and you'll be sure that they won't go out of style.
Best Sunglasses for a Diamond Face Shape
Diamonds are expensive because they are rare. It's similar to diamond-shaped faces. They are as rare as they come. The features that stand out with your diamond face are a narrow forehead and full cheeks. Top-heavy browline frames are great for contrasting your cheekbones. Rectangular sunglasses are also a good choice since they help balance your unique features.
Best Sunglasses for a Rectangle Face Shape
To balance your rectangular face, I recommend sunglasses that add width to your long face shape. Be adventurous and go for round or square-framed sunglasses that are slightly oversized. Remember to stay clear from square and rectangular sunglasses. Choose sunglasses by following our basic rule, which is we go for contrast.
The Best Sunglasses Based on Your Skin Tone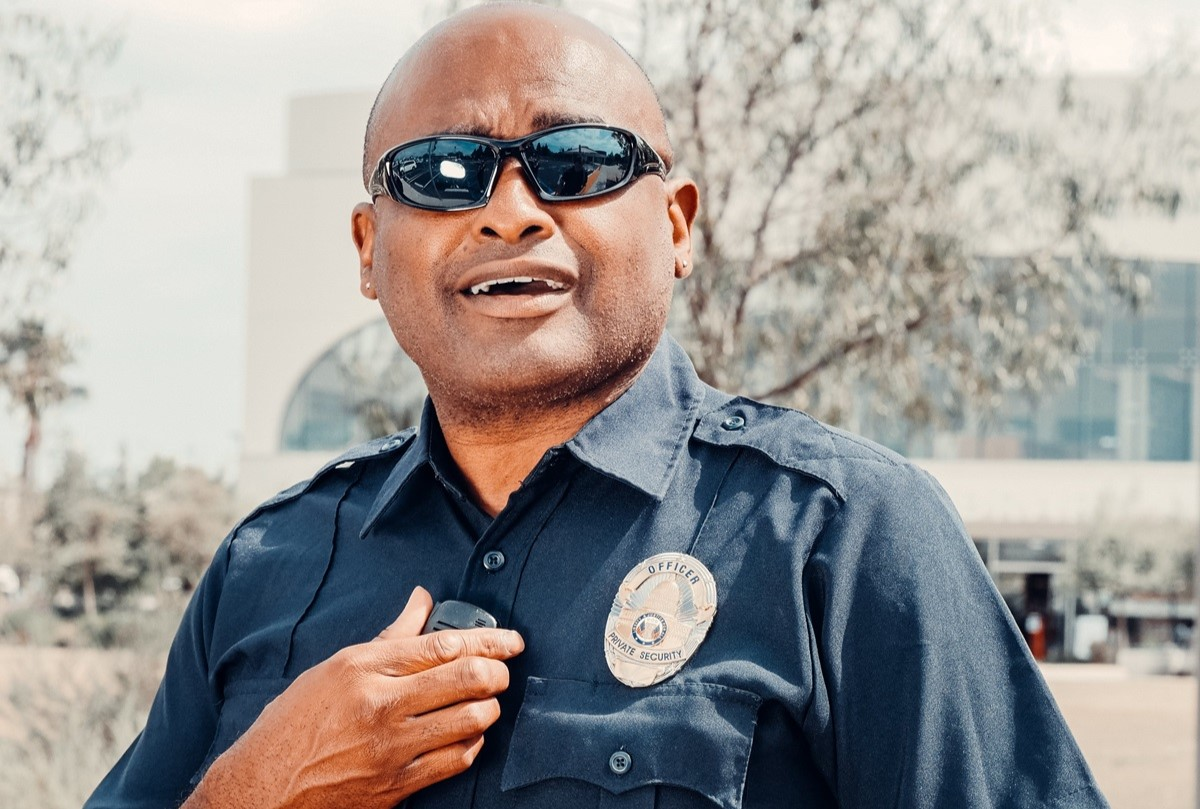 The next major consideration when looking for a pair of sunglasses is choosing glasses based on your skin color or skin tone. Hair provides balance to one's look, but in our case, we don't have hair to provide contrast.
To make things simpler, we focus on the three major skin tones: white, mid, and dark skin color.
White skin tone: If your skin is on the lighter side, you've got an unfair advantage. Most of the frame shades will be darker than your skin and will give you good contrast. Dark-colored frames are a good option since they would pop out, given your skin tone.

Mid-skin tone: If you're in the middle of the spectrum like me, you can go either way. I have an oval face and mid-skin tone, which gives me endless possibilities to style my bald head. Being neither white nor dark, you can easily pick colors that would provide good contrast, whether going darker or lighter if you prefer.

Dark skin tone: If you're a dark-skinned baldie, you also benefit from having the darkest skin tone on the scale. Going light will give you amazing contrast, but you can also go with a black frame since black looks great on any occasion.
Other Considerations When Choosing Sunglasses for Bald Men
UV protection, head size, lens color, fit, and frame materials are also important when choosing the right sunglasses. Let's talk about how they have an impact on which sunglasses you should buy.
Similar to face shapes, the size of your head matters in choosing the size of your sunglasses. Contrast applies once more in this situation. For larger heads, thin frames should be a staple in your eyewear rack. If your head is small, choose frames that are larger and bolder.
Polarized lenses: These lenses are a good choice for those who like driving, boating, hiking, and golfing. They are designed to reduce glare from reflective surfaces like water or roads. Do remember that polarized lenses do not provide UV protection automatically. It's better to ask your seller or check the label of your polarized sunglasses to make sure they give the maximum UV protection.

Photochromic lenses: Photochromic lenses adjust automatically to changing light conditions. They go dark when you are outside and go lighter when you go inside. It's a cool feature to have with your sunglasses.

Colored lenses: Sunglasses with colored lenses can add to your style. You can choose amber, gray, brown, or even rose-colored lenses if you like. Dark colors are meant to reduce glare and eyestrain when outside. Light colors, on the other hand, are a good choice in low-level light conditions. They enhance visibility out in the snow, so it's a good choice for bald individuals who love snow sports.

Mirrored lenses: Mirrored lenses have a thin layer of metallic coating that can reduce the amount of light entering your eyes.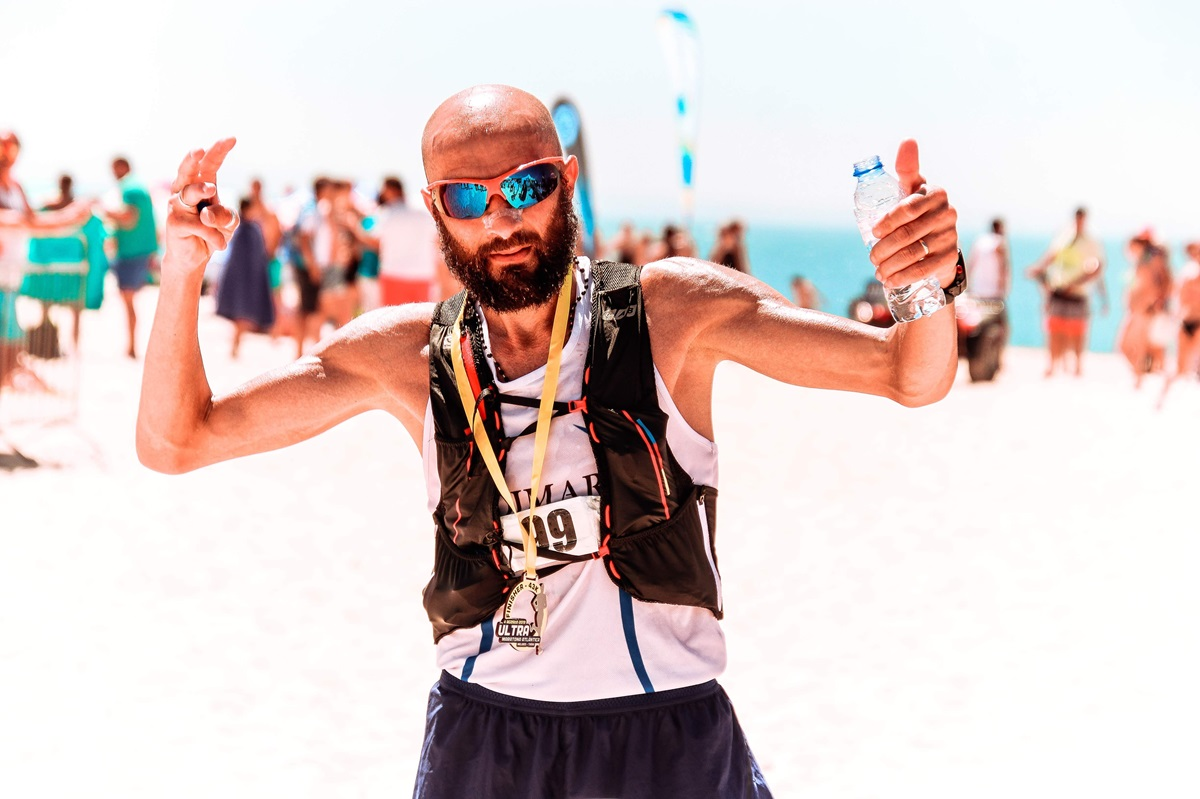 When choosing sunglasses, make sure to get a pair with UV protection. When you are outdoors, you need to protect your eyes from harmful UV rays. You wouldn't want to have cataracts and other vision problems in the future if you go out with your eyes unprotected. Check with your seller if the sunglasses you prefer have UV protection. Take note that darker lenses don't always mean you get UV protection. Only sunglasses with 100% UV protection give you the safety that you need.
Frames should fit on your nose and ears. A pair with adjustable nose pads would be great to have. For me, I'll go for lightweight frames with equal weight distribution.
Metal frames: Metal frames are more expensive and less durable compared to other frame materials. They are not suited for high-impact activities. Take note that metals like stainless steel, aluminum, and titanium can heat up when left in your exposed car.

Nylon: Nylon frames are an inexpensive, durable, and lightweight alternative to metal frames. You can choose nylon frame sunglasses that are suited for high-impact sports activities.

Acetate: Acetate frames are stronger, flexible, and more durable than traditional plastic frames. They can bend a little more before breaking, plus the design and color of the frames won't fade easily.

Wood: Wooden Wayfarers? Why not. These stylish sunglasses are non-toxic and environmentally friendly. Wood is also recyclable, biodegradable, and durable. You can choose between bamboo, ebony, walnut, oak, rosewood, cherry, and zebra wood for your frames. When it comes to style, there are aviators and wayfarers for those who love the classics like me.

Eco-Friendly: Concerned about saving the environment? Eco-friendly sunglasses are becoming more popular nowadays, especially for those who are hopping on the "going green" bandwagon. You can buy a pair made from recycled plastic, wood, nylon, or acetate. Acetate is a plant-based cellulose that comes from trees or plants, making it an eco-friendly material for sunglasses. Acetate sunglasses are lightweight and come in various colors and frames.
What Sunglasses Do Famous Bald Guys Wear?
If you still can't figure out what pair of sunglasses to buy, take some inspiration from some Hollywood stars.
What style of sunglasses does Vin Diesel wear?
Vin Diesel has amazing taste in sunglasses. The Fast and the Furious star wears various brands of sunglasses, which enhance his rugged and bald look. Eyewear has become a trademark of Diesel's style. During the premiere of Avengers: Infinity War, he wears the Dita Flight .004 sunglasses.
In the war film Billy Lynn's Long Halftime Walk, Diesel wears the Oakley Radar Path protective sunglasses. The rugged and durable sunnies from Oakley were a perfect choice for the intense and action-packed scenes.
In the 2020 superhero film Bloodshot, Vin wore a pair of gold Rayban RB3025 Aviator sunglasses.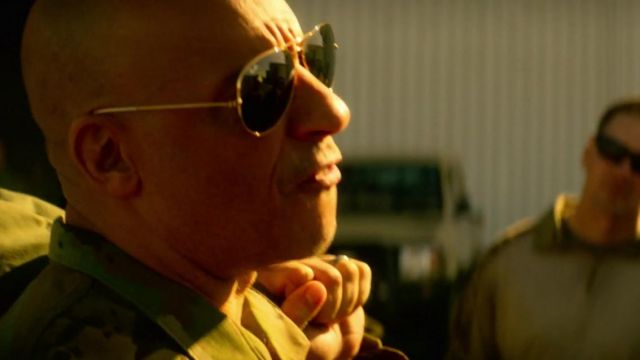 It's no surprise that bald men would emulate Diesel's style; whether he's wearing jeans or formal wear, he always looks good wearing shades.
What style of sunglasses does Jason Statham wear?
Another iconic bald guy you can emulate is Jason Statham. The famous Brit wears a wide variety of sunglasses, with the Aviator sunglasses and Ray Ban Wayfarer being his favorites.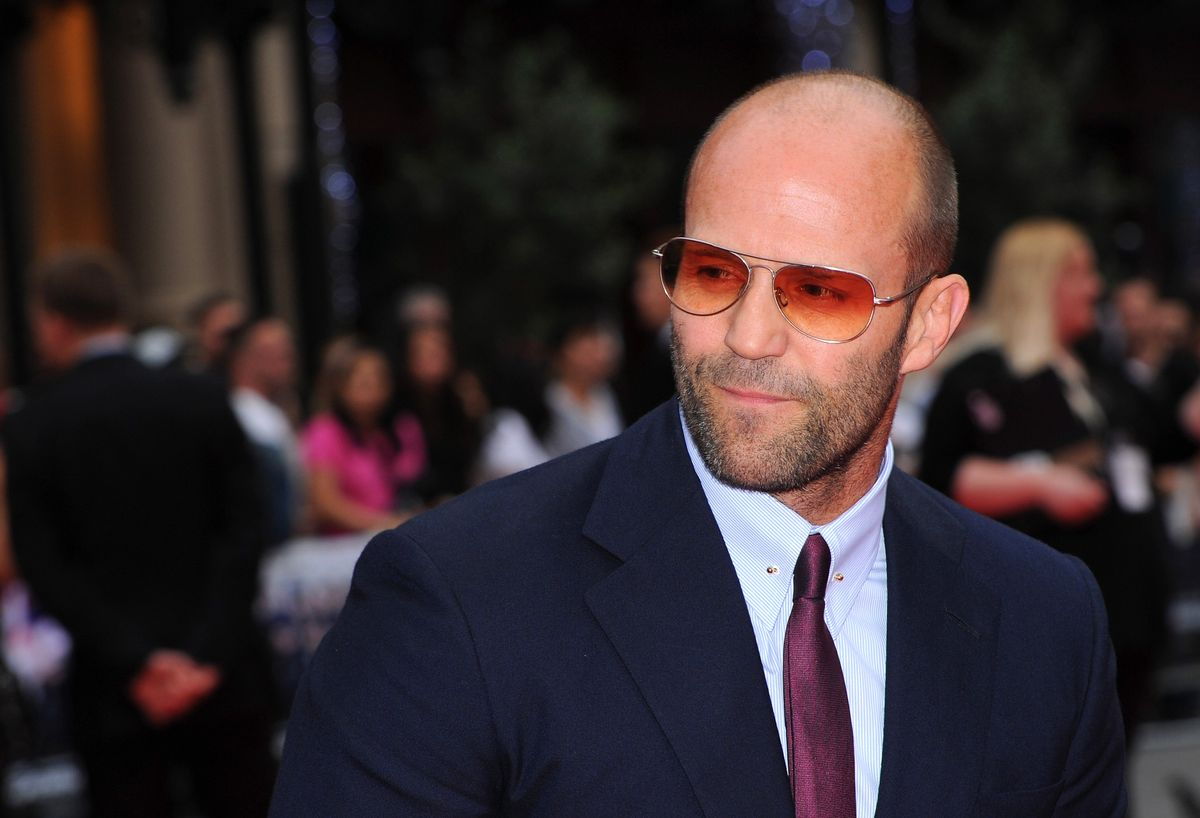 What style of sunglasses does Dwayne "The Rock" Johnson wear?
If you've seen Ballers Season 4 and are wondering what sunglasses the Rock was wearing, it's the new Dita Flight Seven. On his Instagram and TikTok videos, The Rock can be seen wearing a pair of Ray-Ban RB3025 Aviators.
On Baywatch, the Rock plays a lifeguard who is always at the beach. Sheila Vance of Sama Eyewear designed sunglasses for Dwayne in Baywatch. He sports a SYD Bay Elite, which stands for Special Yellow Dwayne. The frame features a gold tone made with titanium and features a classic Aviator shape.
In the Rampage Movie, the Rock plays an animal-loving primatologist who befriends a 7-foot-tall rare albino gorilla. As he saves the world, he can be seen wearing a pair of Randolph Aviator Sunglasses (Archer Style). The look fits him as he "rocks" his character's style from beginning to end. He seems to love Randolf Sunglasses since he has often been seen wearing them off-screen since 2015.
What style of sunglasses does Stanley Tucci wear?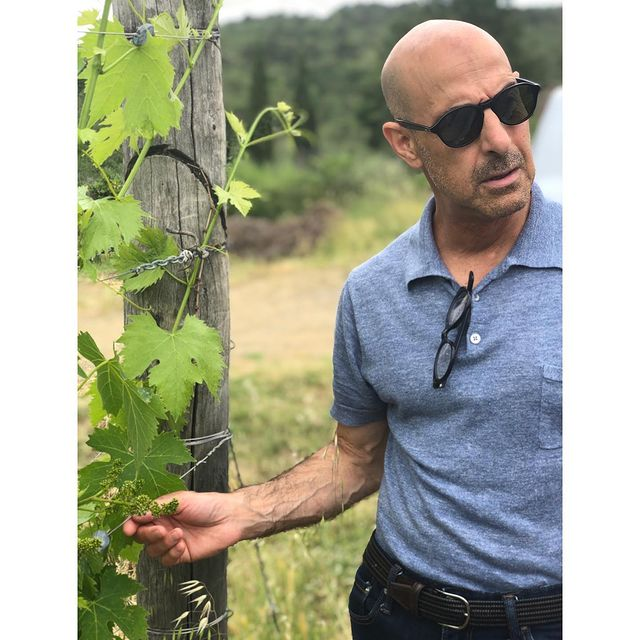 Stanley Tucci is known for his fashion and eyewear. The Givenchy GV7017/N/S is the closest style sunglasses you can buy to achieve the Tucci look.
What style of sunglasses does Jeff Bezos wear?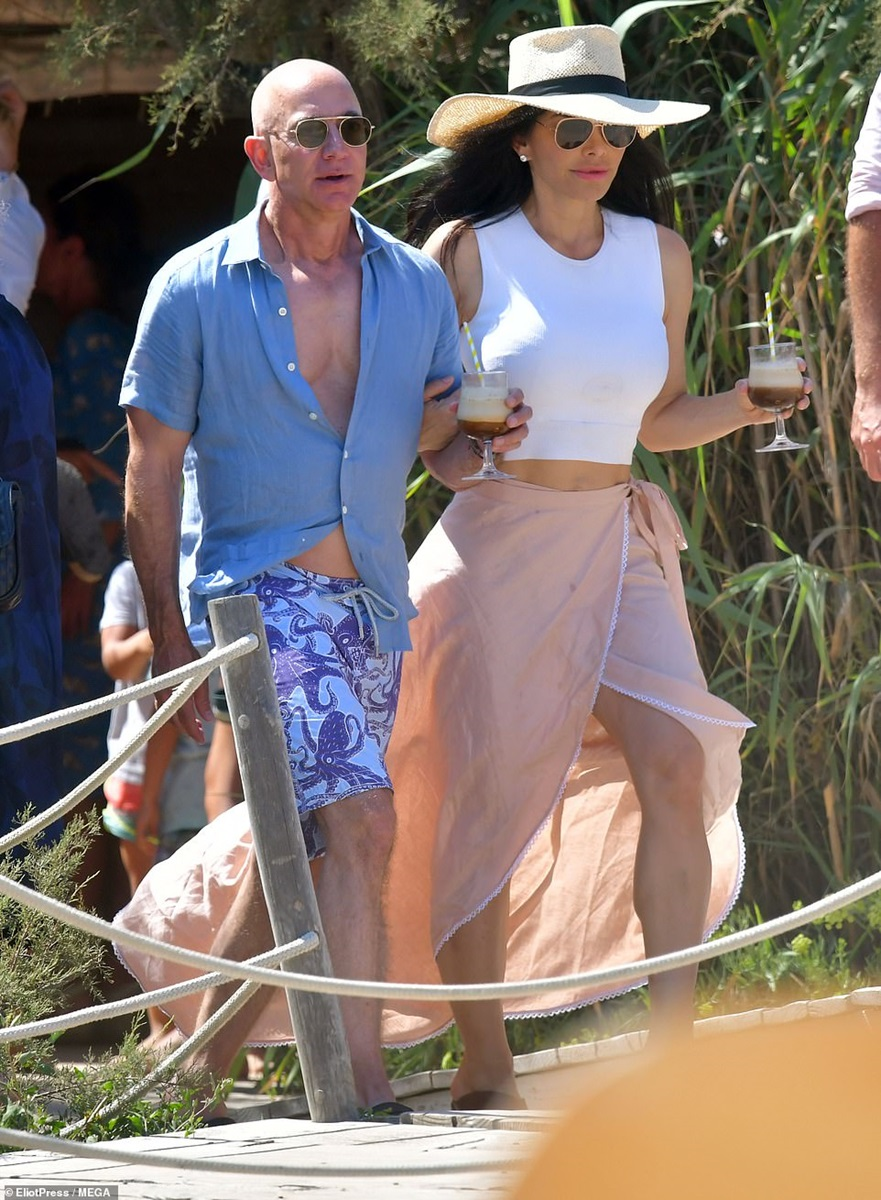 Have you ever wondered what sunglasses a bald Billionaire wears? In a photo courtesy of the Business Insider, Bezos is seen wearing the Garrett Leight Van Buren sunglasses, which cost around $365. You can steal Bezos' look and feel like one of the richest men in the world.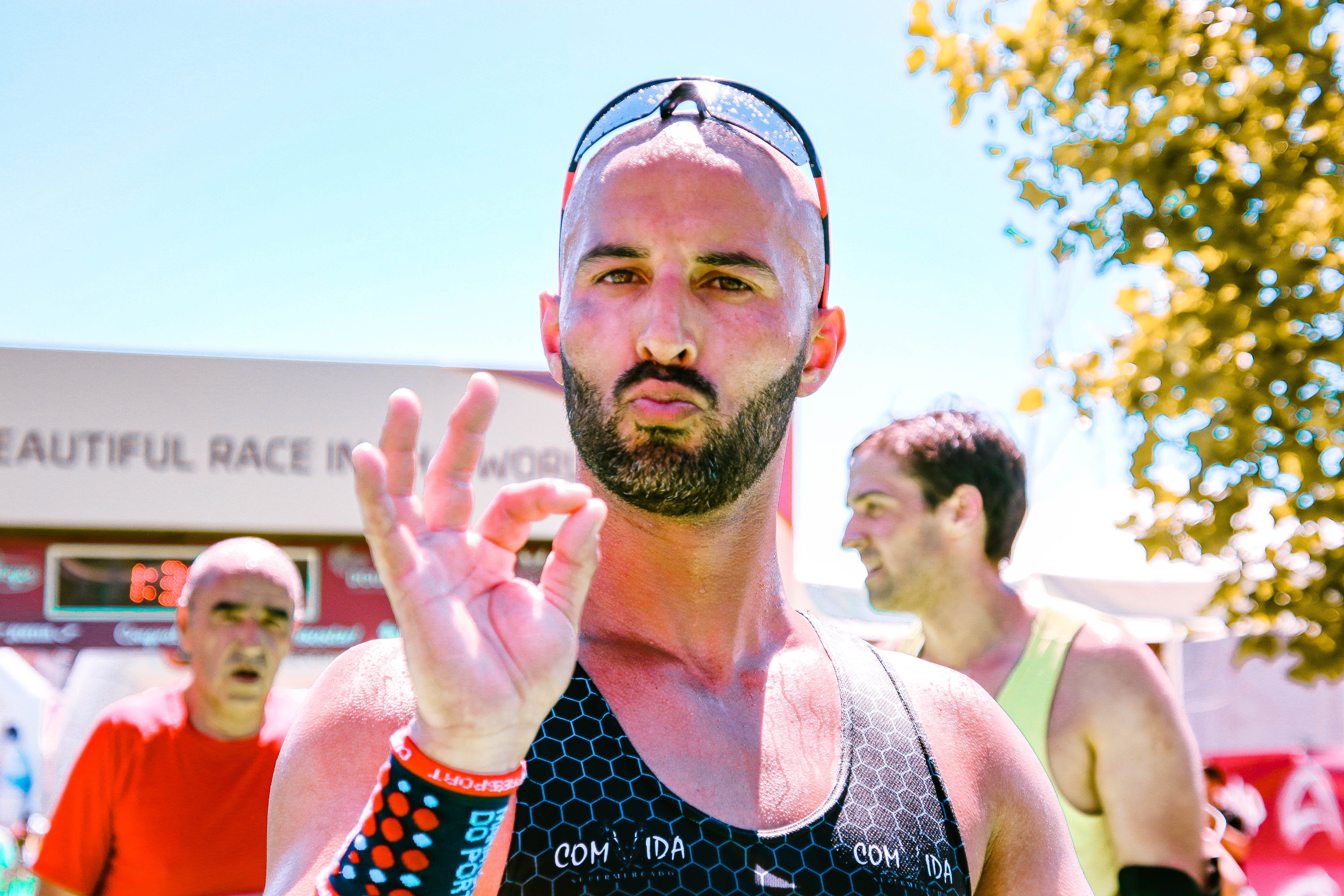 Sunglasses are not only a fashion accessory but also a necessity, especially for bald guys like us. They help protect our eyes and enhance our fashion. Whether it's a trendy Wayfarer or classic Aviator sunglasses, you now know how to choose the right pair.
I'm sure our comprehensive guide has taught you a lot and helped you pick the best sunglasses for your bald head. If you want to know how to choose the best eyeglasses for bald men, you can refer to our other guide by clicking on the link.
Remember, being bald is not a bad thing. As long as you remember to apply contrast to your face shape and skin tone, do this, and you'll surely make the right choice.
Start with finding out your face shape and skin tone and go from there. The perfect shades are out there. Pick a style that complements your natural features and make a statement.
If you love Aviators and Wayfarers like me, the good news is you don't have to buy the original Ray-Ban sunglasses to achieve the look you want. There are cheaper brands that offer the same style.
Frequently Asked Questions
What's the best facial hair for bald men with sunglasses?
Once more, contrast comes into play when choosing the best facial hair for bald men with sunglasses. A beard style that creates contrast with your head shape is the best way to go. If you have a round face, you should avoid sporting a full beard since it adds bulk to your cheeks and chin. The best facial hair for your round face would be to opt for a goatee, stubble, or short beard.